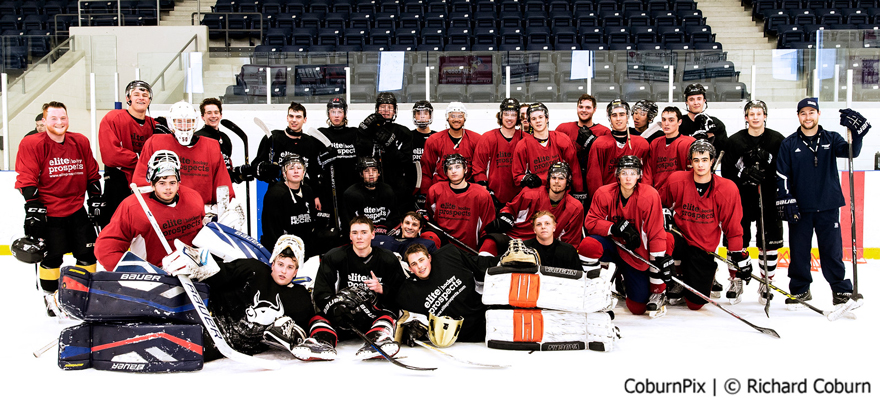 2021 Pre-Season Training Junior Camp
August 2 - August 27, 2021
Season Prep Hockey Camp
Looking to enter your training camp in your peak form? The Pre-Season Training Camp prepares players for their seasons with daily intense on-ice training sessions with additional focus on game situation puck touches, strength building, systems video and in-season mentality. Camp features:
• 4-week Season Prep Bootcamp
• Daily 1.5 Hour Skates with USport, OHL Coaches
• Focused Gym Strength Program
• Video & Mental Coaching
• Exposure to Scouts for Team Placements

Player Level
AAA / AA / Jr. A / Jr. B / Jr. C | Ages 14 - 20
This camp is designed to prepare players for their upcoming Junior, College or AAA seasons. With this in mind, the target skill level of this camp is international players at the AAA or Junior level. Players joining this camp should have the aspirations of College, Pro or Junior for the upcoming season and the resources at the EP Showcase will help opening opportunities for this level.
Program Schedule


Training Staff
John Duco - Head On-Ice Instructor
Head Coach, Ryerson Rams (USport)

Johnny Duco will return to the EP Showcase Team for the 8th Year as lead on-instructor. Duco has served as an assistant/associate coach for the Rams men's hockey program since June 2013.

In 2016, Duco was named the Head Coach of the Rams and has build the Ryerson University program into a Nationaly ranked program.

A Toronto, Ont. native, Duco played collegiate hockey in the NCAA with Oswego State (NCAA D3) when the Lakers were ranked No. 2 in the country. He also played for the Buffalo State Bengals and graduated with a Bachelor of Science in Health and Wellness.

Mike Duco - Associate Head Instructor
Player Development , Peterborough Petes (OHL)
Head of Skill Development, Okanagan Hockey Group

Mike Duco, brother of John, will split this instruction duties for a fifth year. The former NHL Player and current OHL Player Development Coach brings a wealth of connections to the EP Showcase program.

Mike serves as the Head of Skills Development for the international Okanagan Hockey Group, mentoriing top U16 & U18 athletes. Mike also is the head of player development for the Peterbourgh Petes of the OHL, where he has developed several NHL prospects through their draft.

Mike's eight year pro career was highlighted with stints in the NHL with the Vancouver Canucks and Flordia Panthers.

Liam Finn - Strength & Conditioning Coach
Strength Coach, Bradford Rattlers Jr. A

Liam Finn returns as the lead Strength & Conditioning Coach of the EP Showcase. His program focuses on weight training and nutrition for athletes.

Liam is a former professional hockey player, spending parts of his career in Sweden and in the USA. Liam had a successful five year junior career prior, including OHL camp invitations.

Finn now serves as a trainer at the Hockey Factory Toronto and is the Owner of Body Elite Circle.
Training Facility
BWG Leisure Centre, Bradford, Ontario
All EP Showcase practices, and workouts are held at brand new BWG Leisure Centre in Bradford, Ontario. Located 45 minutes North of Toronto, new state of the art fitness centre, complete with gymnasium and pool.All players have unlimited, full access to the entire fitness centre as members of the Team. The players also have their own custom pro dressing room with individual stalls, logo floor, TV and stereo. Directly outside the team dressing room you will find a private storage room and laundry room as well as the coaches dressing room. Upstairs you will find the coaches office overlooking the ice. [Full Details]

Living & Billeting
Billet Families
Over the years, the team has been very fortunate to attract fantastic billets for all of our players. All potential billets are interviewed by the team and must submit an official police record check to qualify as billets. The team tries to find homes that will house two players in order to make the transition more comfortable for each new team member. Each player is responsible to pay their billet family the agreed upon billet fee on the 1st of every month. The billeting option is $600/month which includes all living expenses such as rent, food, utilities, internet. The families try to include players as a member of the family and treat them as if their own child.

Financial Obligations

Billeting is optional during camp, and the players in the homestay program are responsible to look after their own billeting payment on the 1st day of arrival. Billeting is CAD $600 per month ($20/day) paid directly to the billet family.
For import players, non-Canadian, insurance is recomended Manulife Financial and costs approximately CAD $120 for the duration of the spring training season. This insurance covers Covid-19.
Team fees amount to CAD $1800 with all team fee payments discussed and arranged over phone or e-mail. Payment schedules over 2-3 months are commonly arranged to accomodate players. Tuitions must be paid in full prior to arriving at camp.
To register or inquire, please complete this profile and a Camp representative will be in touch

Covid-19 Contingency Plan
Planning through the challenges of Covid-19 for the 2021 program the EP Showcase has prepared for several scenarios. We ask that our players understand that some details of the program may change due to unforeseen circumstances and by registering with the Camp, this is acknowledged and accepted. Some of these plans include:
• Training times and tournaments may be subject to change due to arena protocols
Contact
Sean Werth, Camp Director
info@epshowcase.com
O: +1.905.775.0062
Recent Alumni
2019

Max Golod - Anaheim Ducks NHL
Aleks Dimovski - Drummondville QMJHL
Orie Mainolfi - Drummondville QMJHL
Charles Cypihot Acadie-Bathurst Titan QMJHL
Jerome Lafond - Shawinigan Cataractes QMJHL
Oldrich Matejka - Utica Jr Comets NCDC
Klim Georgiyev Tor. Canadiens OJHL
Rizvan Mansurov Tor. Canadiens OJHL
Jacob Ertel - Georgetown Raiders OJHL
Cam Neaylon - Aurora Tigers OJHL
Brayden Morris - Aurora Tigers OJHL
Matt King - Lindsay Muskies OJHL
Ando Stepanian - Lindsay Muskies OJHL
Alex Dameski - Brantford 99ers OJHL
Noah Doyle - Rockland Nationals CCHL
Oleg Grishatov - Bradford Rattlers GMHL
Nash Smith - Grad Falls Rapids MJAHL
Alex Timchenko - Team Russia U16 WJC
Andrei Berezinsky - Kapitan Stupino MHL
Trevor Babin - Deleware Thunder FHL

2018

Carson Briere - Johnstown Tomahawks NAHL
Mitchell Devins-Cann - Corpus Christi NAHL
Caelan Briere - Univ. of Alabama ACHA
Rewdy Scott - Georgetown Raiders OJHL
Dan Heelis - Toronto Jr. Canadiens OJHL
Anton Trublin - Toronto Jr. Canadiens OJHL
Aleks Dimovski - Toronto Patriots OJHL
Cam Neaylon - Aurora Tigers OJHL
Chris Atanas - Aurora Tigers OJHL
Kyle Kozma - North York Rangers OJHL
Orie Mainolfi - Markham Royals OJHL
Aiden Matekovic - Guelph Hurricanes GOJHL
Hunter Randell - Winchester Hawks CCHL2
Henry Scott - Powassan VooDoos NOJHL
Allen Menary - Elliot Lake Wildcats NOJHL
Eric Nagy - Powassan VooDoos NOJHL
Sam Zaritsky - Connecticut Oilers EHL

2017

Aaron Armstrong Ryerson Rams USport/CIS
Brandon Billie Brampton Beast ECHL
TJ Sherwood Adriondack Thunder ECHL
Kent Nusbaum Toledo Walleye ECHL
Nick D'Avolio Evansville TBolts SPHL
Curtis Warren Barrie Colts OHL
Egor Kurbatov Victoriaville Tigers QMJHL
Khassan Al-Dzhilaui Moscow Dynamo KHL/MHL
Stepan Timofeyev Cornwall Nationals FHL
Ilya Zhurin Cornwall Nationals FHL
Zakk Bekolay Cornwall Nationals FHL
Alex Mitsionis Cornwall Nationals FHL
Moe Kucukildiz Trangsund IF SWE Div.2
Rasmus Brunnberg Varmdo HC SWE Div.2
Cam Neaylon Aurora Tigers OJHL
Trevor Finch Brockville Braves CCHL
Danny Martin Gloucester Rangers CCHL
Jordan Renaud Nepean Raiders CCHL
Connor Kearney Cochrane Crunch NOJHL
Chris Mammas Cornwall Colts CCHL
Zakk Bekolay Burlington Courgars OJHL
Artur Terchiyev Toronto Jr Canadians OJHL
Dalton Barnes St. Michael's Buzzer OJHL
Tyler Kulba Stoufville Spirit OJHL
Nikita Lytviak Wichita Falls Wildcats NAHL
Turk Scatliff Wichita Falls Wildcats NAHL
Kyle Stephan Wenatchee Wild BCHL
Jordan Sims Evansville Icemen ECHL