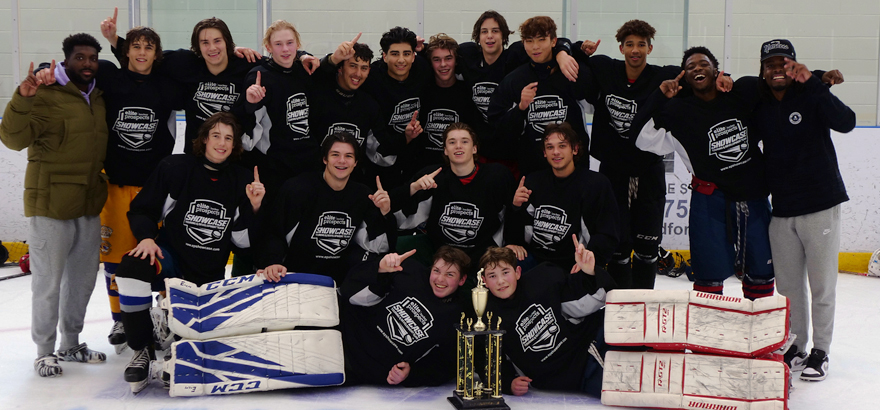 2023 Showcase Week
Welcome to the 2023 EP Showcase Week!
The 3rd annual EP Showcase Tournament will be held in Bradford, Ontario; July 26- 28, 2023.
Our showcase tournament offers players real chances to be viewed, evaluated and receive offers in a small showcase setting. We ensure this by limiting our registration to individuals for a 6-8 team tournament.
The smaller showcase setting allows us to have understanding of each player's background and ambitions towards the upcoming season. We have one game at a time at one arena for Scouts and Coaches to few easily. Other tournaments which host 30 teams, and 500+ players and across multiple venues make it virtually impossible to be noticed out of the crowd. We take a different approach which has been successful for our camp in the past. .
Our showcase aims to provide exposure to all levels of hockey, from OHL, QMJHL, NAHL, Junior 'A' (OJHL/GMHL) and AAA Prep.
Consultations are available ahead of the camp with our staff to discuss opportunities for the upcoming season. Players are welcome reach out to us to set up a pre-camp meeting.
Coaches/Scouts:
Over the past two showcases, the EP Camp has had the following coaches in attendance:
Todd Miller, Guelph Storm (OHL)
Chris Beckford-Tseu, Mississauga Steelheads (OHL)
Shane McCarthy, Barrie Colts (OHL)
Dennis Martindale, Barrie Colts (OHL)
Doug Orr, Gatineau Olympiques (QMJHL)
Sylvain Cloutier, Corpus Cristi Icerays (NAHL)
Johnny Duco, Toronto Metro Univ. (USports)
Dan Spence, Nipissing Univ. (USports)
Mike Duco, Pickering Panthers Jr. A (OJHL)
Jim Thomson, Aurora Tigers Jr. A (OJHL)
David Lang, Haliburton Huskies Jr. A (OJHL)
Sean Werth, Bradford Rattlers Jr. A (GMHL)
Dave Bush, Whitecourt Wolverines Jr. A (AJHL)
Justin Peca, Kings Heights Academy (CSSHLE)
Adrian Soun, Import Sports Management Agency (Canada)
Johan Eriksson, JE Hockey Agency (Sweden)
Harrison Reed, Crocodiles Hamburg (Germany)
Attila Hoffman, Vasas SC U21 (Hungary)
Along with various other Junior & AAA programs
Video Highlights:
All games at the Showcase Week are recorded. Scouting videos are available for order for an additional cost of $150.00 CAD using your clips from the showcase.

Schedule & Scores:
Arena Location: BWG Leisure Centre (471 West Park Ave, Bradford, ON L3Z 0J3)
2023 Tournament Format:
Players will play in three matches over three days, with the top 2 teams advancing to the playoff finals for a fourth game.
Warm up: 3 Minutes
1st Half: 25 Minutes Stop Time
Ice Cut
2nd Half: 25 Minutes Stop Time

Tournament Rules:
• 5 on 5 play
• Two-minute penalties, Expires if goal is scored
• Automatic icing rules, non-touch. Teams permitted to change
• Zero tolerance for dirty play, fighting, fighting is kicked out of game
• No hitting, only positional containment contact
• Warm up 3 minutes, starting right away. No anthem or starting lineups
• Full face shields, neck guards, mouth guards are mandatory. Game ends in Tie if Tied after regulation
Playoff Game Advancement - Top two teams advance based on:
1. Most Points
2. Head to Head
3. Least Goals Against
4. Most Goals For
5. Flip a Coin

LiveStream Link:
https://www.youtube.com/channel/UC80GiNfXlUh5iceiopxELIw/live